Also this week at Future Circular Collider Week (5-9 June, London): Euclid Techlabs provided the collider community a in-depth look at our ferroelectric fast reactive tuner (FE-FRT). From a custom ferroelectric ceramic material, a bulk material permittivity response time less than 100 nanoseconds is readily achieved. Coupled with a high dielectric breakdown strength, low gas permeability and simplicity of mechanical treatment, the FE-FRT provides an extremely attractive solution for fast tuning and switching devices of RF accelerator systems.
In collaboration with CERN, a customized FE-FRT is presently being developed as a transient detuning scheme for their LHC injection scenarios. Taking advantage of the FE-FRT fast response times to alter the cavity detuning during gaps in bunch trains, enables large savings of RF power in the presence of transient beam loading.
Applicable material properties have been assessed in the frequency range of 80 MHz – 1.5 GHz were also presented in detail here.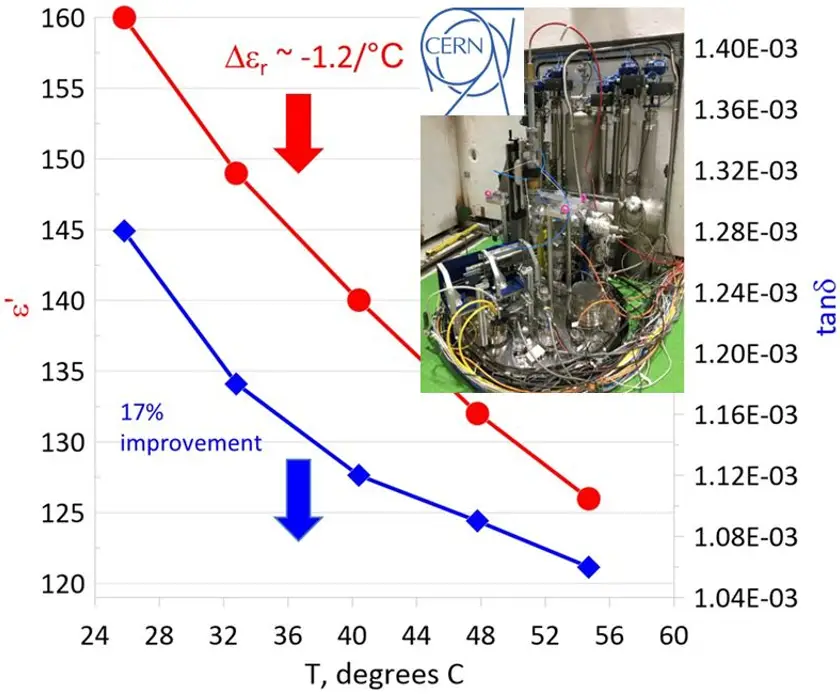 Dielectric constant (ε) and tanδ measurements at 400 MHz for the BST(M) ferroelectric material. The tanδ is 1.3×10-3 @23ºС and shows continuous improvement of ~ 17% as temperature reaches 55ºС.